Below are categories of slides from our April 27 2017 presentation "Misdemeanors to Murder: Nothing but the Truth from a Criminal Lawyer and Private Eye" at the Pikes Peak Writers Conference.
All slides are copyrighted by the author. Do not copy, distribute, or otherwise use, thank you.
To move forward through a slide show, click on slide image. At end of slides is a PI resource list for writers and others interested in the world of private investigations. There are also a few links to sites dedicated to the mystery & private eye fiction genres.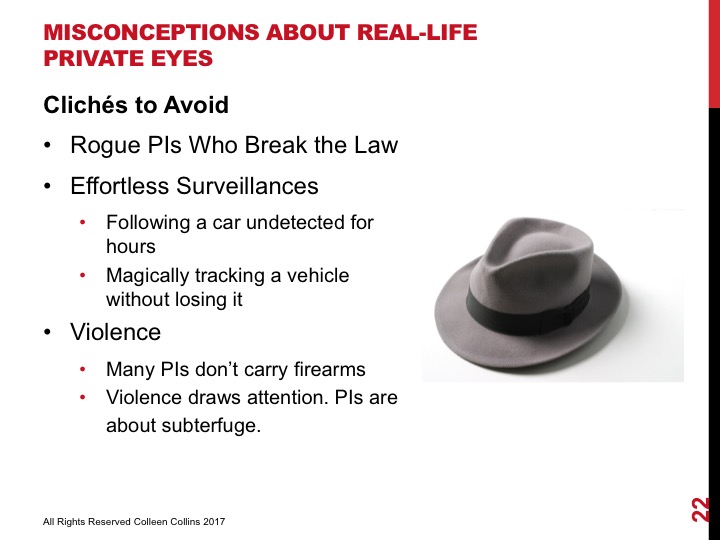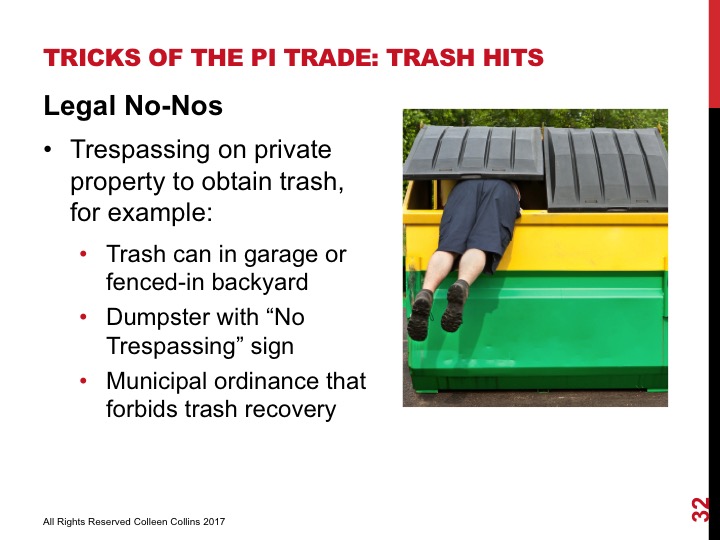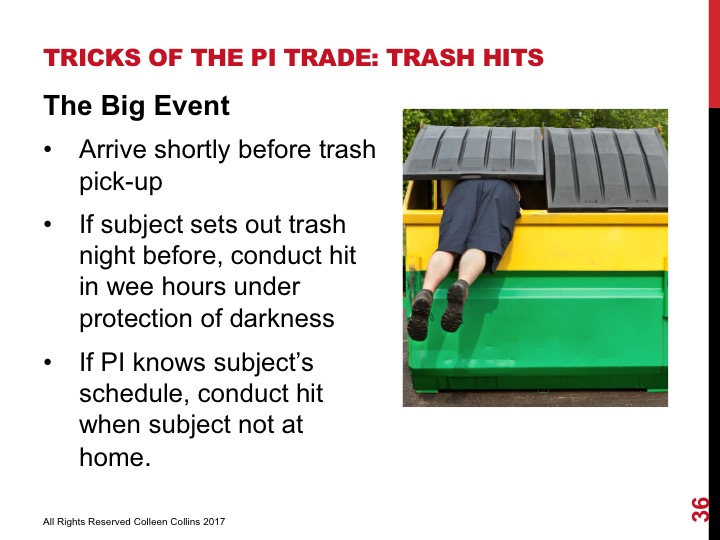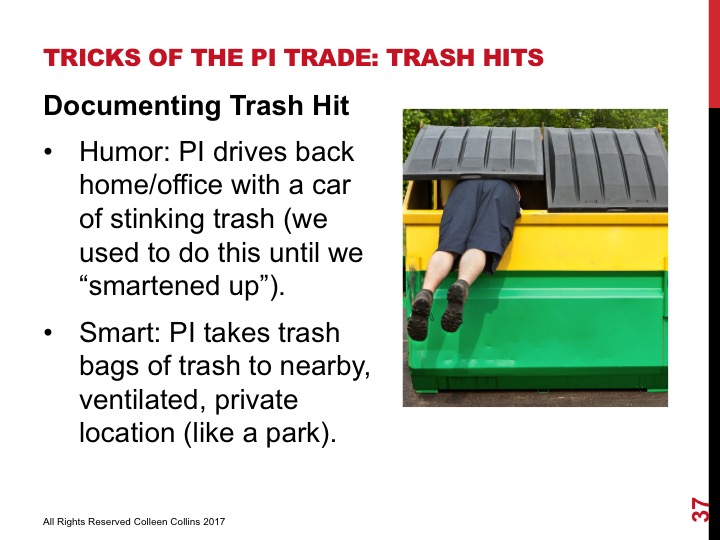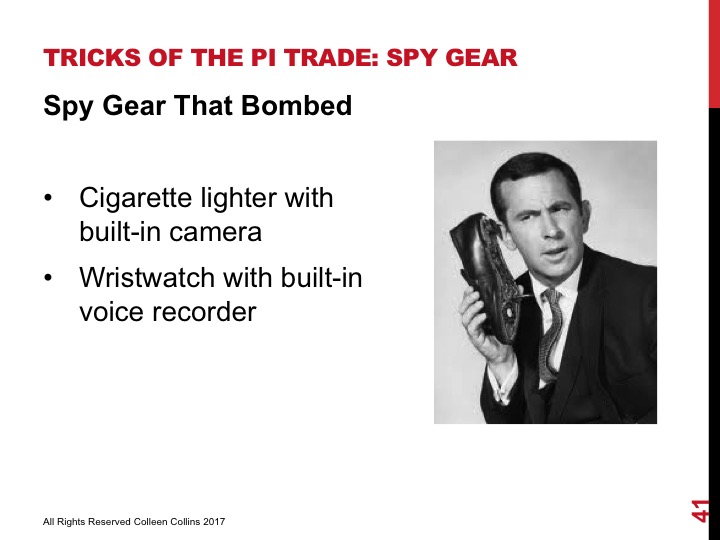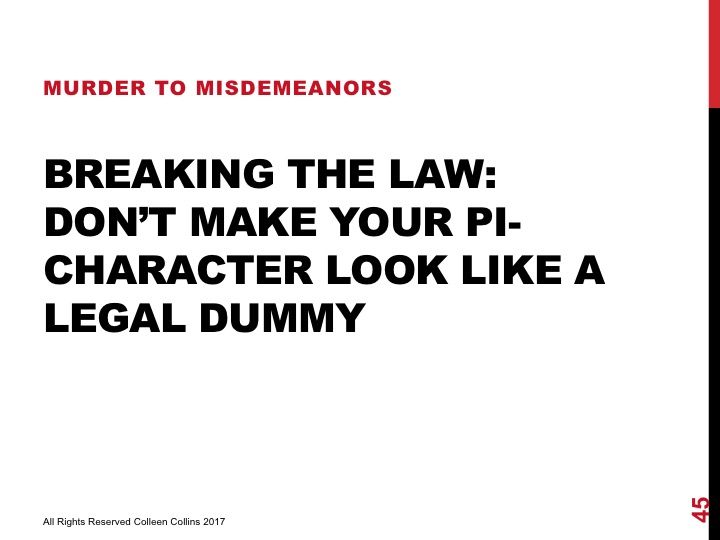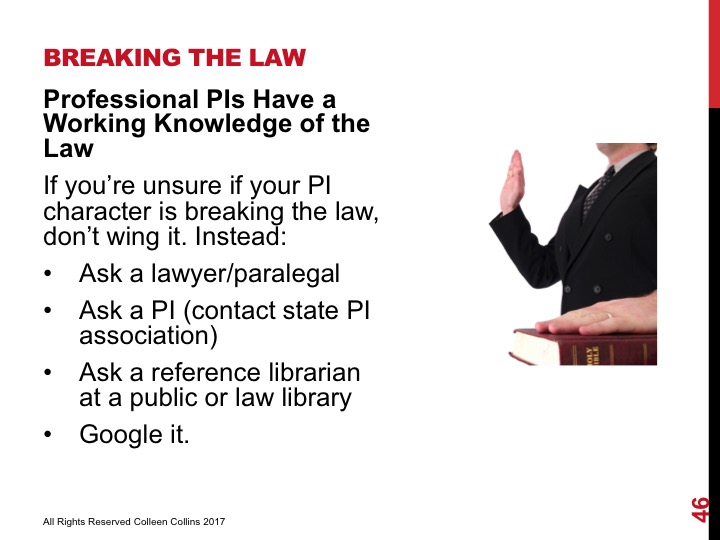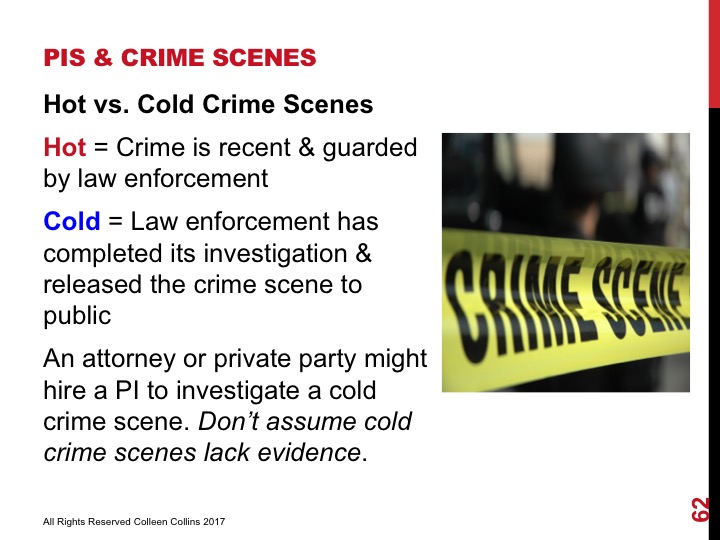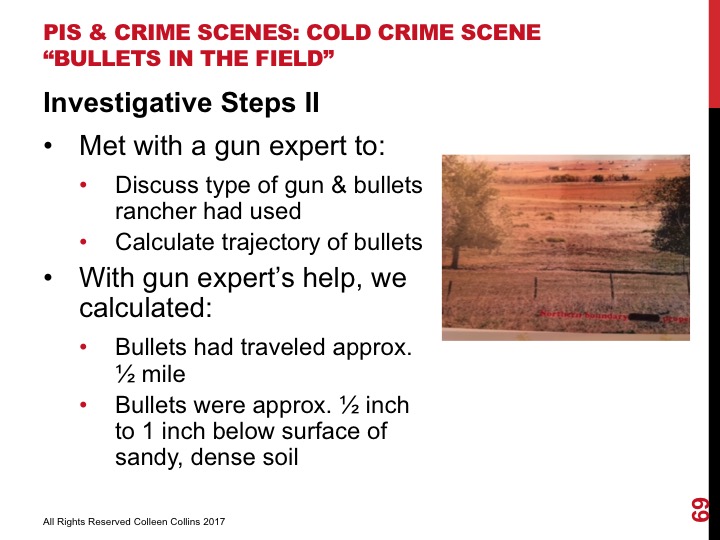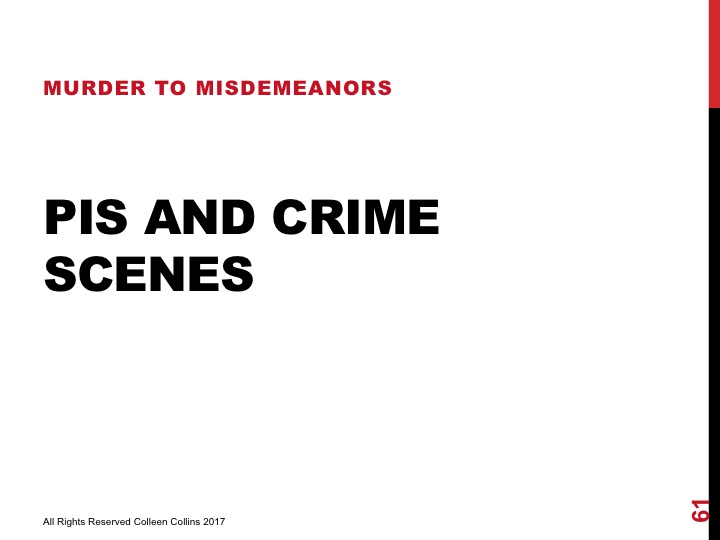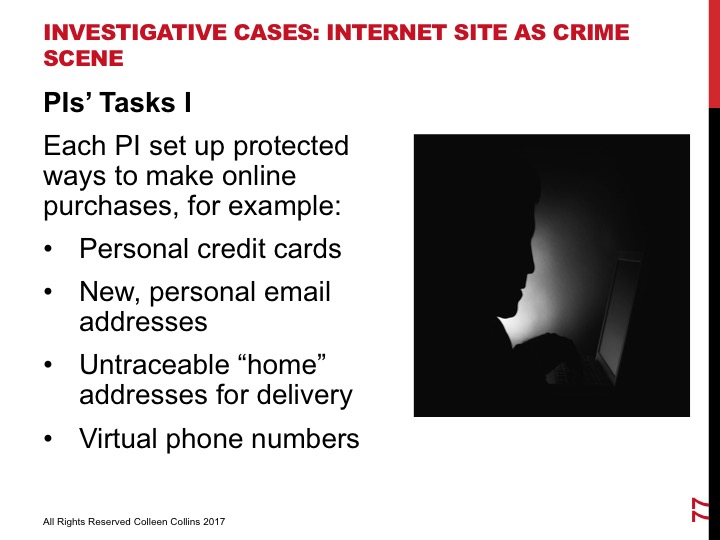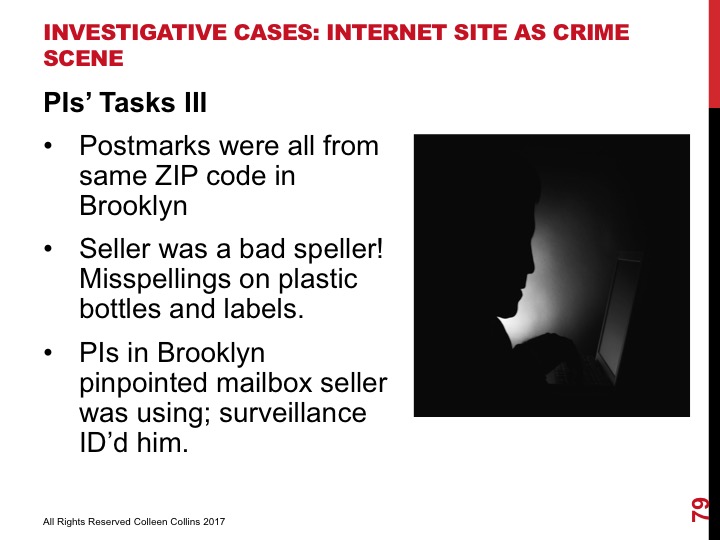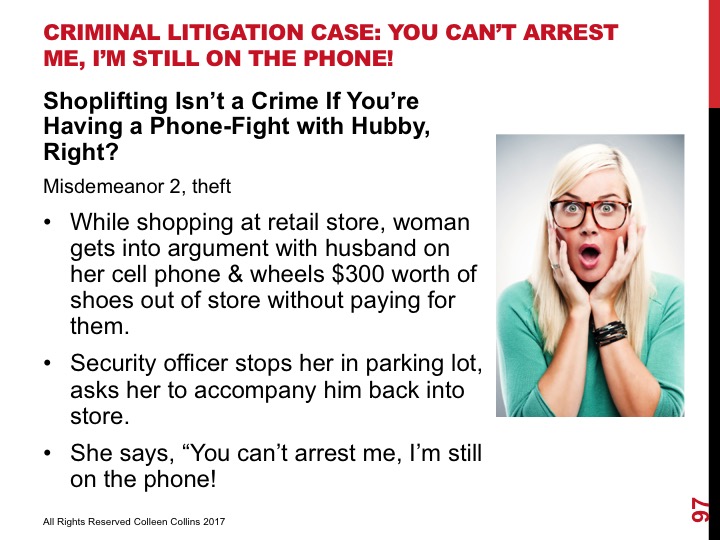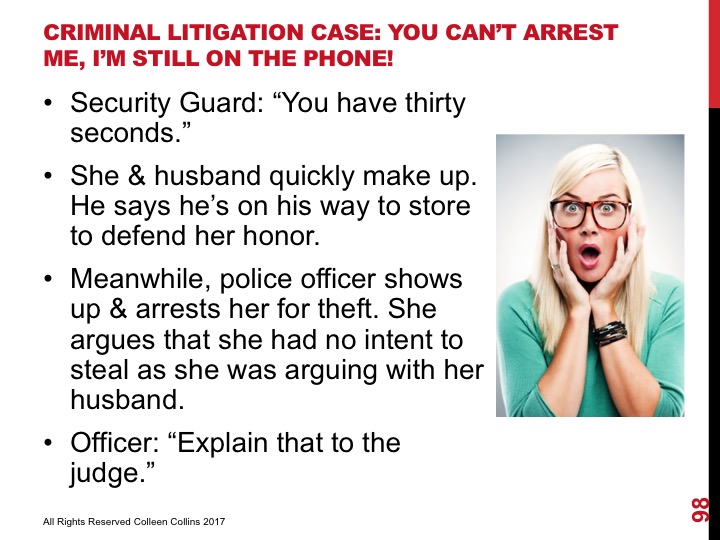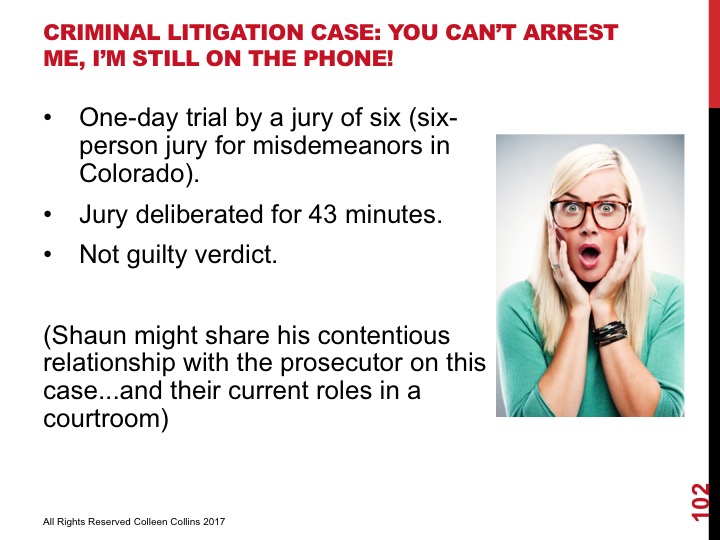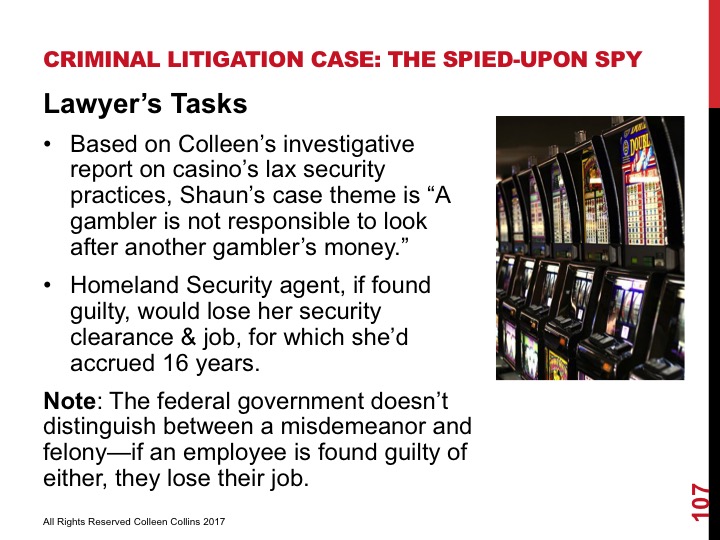 PI Resources for Writers
Cold Case Squad: A blog by Joseph L. Giacalone, retired NYPD Detective Sergeant, former Commanding Officer of the Bronx Cold Case Homicide Squad, and author of The Criminal Investigative Function. His blog covers such topics as forensics, law enforcement's use of social media, police body cams, and more.
Defrosting Cold Cases: A resource blog about cold cases, authored by former human rights lawyer, cold case blogger, and crime fiction author Alice de Sturler. Defrosting Cold Cases has placed #1, category criminal justice, in the American Bar Association's Top 100 Blawgs for 2013, 2014, and 2015.
Diligentia: A blog by New York private investigator Brian Willingham, CFE – President, who specializes in background investigations, due diligence, and legal investigations.
eInvestigator: A resource website for private investigators, police officers, crime scene investigators, security specialists, legal professionals, and those researching the internet for people and information. This site has it all: PI specializations (including ghost hunting services for haunted facilities), spy gear, research books and tools, even a "List of Lists" page with lists such as US airports and their official codes, all US Presidents, criminal competencies and corresponding court cases, list of US insurance companies, and more.
Kevin's Security Scrapbook: Spy News from New York: A blog by Kevin D. Murray, an independent security consultant who specializes in surveillance detection, security, and privacy problems.
PIBuzz: A blog by California private investigator Tamara Thompson, well known for her expertise in internet data gathering, genealogical and adoption research, witness background development, and locating people.
PI Magazine: A trade magazine for professional private investigators. You can read articles via a subscription or by ordering an individual issue. The website also provides links to podcasts by professional PIs, US PI organizations and conferences, a bookstore, and spygear shop.
PINow: An online directory of pre-screened, professional private investigators. Click on Investigator Center at top of screen to read articles written by PIs on a variety of investigative topics.
Private Eye Confidential: A blog by California private investigator Mike Spencer of Spencer Elrod Services, Inc. Mike has been a private investigator for nearly two decades, in the course of which he worked with legendary Hollywood private eye John Nazarian. Mike's book, Private Eye Confidential, is being released this summer (great resource for writers!).
Pursuit Magazine: An online community of professional sleuths that "opens a door to a world of mystery and intrigue, a behind-the-scenes glimpse into the lives of real spies and PIs." This site is a rich source of research with dozens of articles by experts in the fields of private investigations, security, bail enforcement, skip tracing, and more. No subscription fees—all articles available for public viewing.
The Rap Sheet: A blog by J. Kingston Pierce, author, senior editor of January Magazine, and the lead crime fiction blogger for Kirkus Reviews. The Rap Sheet dishes the news in the world of crime fiction, both recent and vintage, and lists links to several hundred (at least) crime fiction blogs and author sites.
The Thrilling Detective: Everything you ever wanted to know about private eyes in books, radio, movies, television, even the real world. Founded by author/editor Kevin Burton Smith.
Unfortunately, comments have been closed due to spammers.